[Paperback, Second edition ]
Duty. Honor. My country, right or wrong, drives the young fighter pilots of Dusty Squadron, from flack in the face above the A Shau Valley to napalm in the jungle to midnight gunfights over the Ho Chi Minh Trail. Top Gun F-100 pilot John Ellsworth, the impetuous Son of Thunder, is the most zealous of the lot, and he pays dearly. A story of redemption in a war that changed the American culture.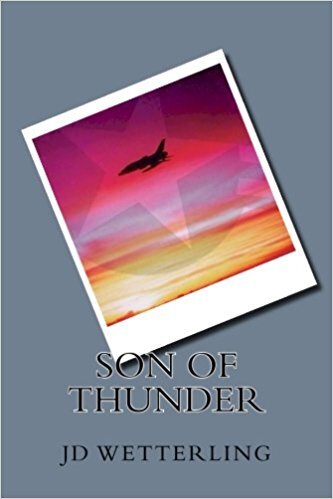 FOREWARD: In the process of getting Son of Thunder, first published in 1998 in hardcover, into ebook format in 2010, I renewed some old friendships with the outspoken personalities that came to life for this story. They reminded me that I had toned downed their message in an effort to please editors, publishers and "the market" in order to get my first book published. Now with four books under my belt, innumerable op-ed columns and blogs, fifteen more years of writing practice, and me now well into my let-the-critics-eat-cake codgerhood, I'm letting these characters have their unexpurgated say. Verbatim.

So, if you read the hardcover first edition and have a good memory, you'll note there are some changes in the storytelling. Son of Thunder is still a love story inside a war story wrapped in redemption. It's the same bullet-sweating air-combat, much of it based on my experience, an eyewitness account of America's most disastrous military endeavor. But there are some greater truths wrestled with in this second edition. For those who daily faced the terrors of instant violent death in combat, and witnessed their friends dying with nothing left to bury, these truths have nightmarish consequences and eternal importance.

As an historical novel, only the plot is fictional. The opinions expressed by the protagonist about the Vietnam War were the unanimous views of those I knew at the point of the spear, the young patriots in the fighter squadrons. As former USAF Chief-of-Staff and Vietnam air combat veteran General Ron Fogelman said on the back cover of the book, it "...captures the experience better than anyone I've read or heard."

A Christian worldview novel.
Son of Thunder is one of the finest Vietnam-era fighter pilot stories I have ever read. Once I started it I could not put it down. While the book is fiction based on actual experience, after a few pages any thoughts of fiction were gone. I thought I was back in Southeast Asia again myself. Steve Miller, Editor, Mig Sweep (Red River Valley Fighter Pilots Association)

Son of Thunder "…makes the reader feel like he is in the cockpit of a virtual reality simulator…. If you like the movie "Top Gun," you will surely enjoy this book. …a story of ego, gripping fear and adrenaline rushes…. It explores…the human relationship where the power of love fights to prevail. …a lasting tribute…."
Sarasota Herald-Tribune

Son of Thunder "…reads like a Grisham novel. It can't be improved on in movie format, so don't wait."
Siesta Key Pelican

Son of Thunder "…captures the essence of a fighter pilot in combat…a charming love story…a subtle analysis of a war that went bad…told just about as well as it can be told. I enjoyed it immensely.
The Longboat Observer

"Though (Son of Thunder is) written as a novel, it is a true mirror of those turbulent times. The story is fast paced and had to put down, as Wetterling's writing about flying is breathlessly real. Veterans will sweat while the rest of us will be given a vivid image of what it must have been like. The only thing missing is the oxygen mask."
Flight Journal

"…graphic…"
The Bradenton Herald

"JD Wetterling captures the (Vietnam) experience better than anyone I've read or heard."
Gen. Ron Fogleman, former Chief of Staff, USAF

"…captures the essence of a fighter pilot in combat… a charming love story…a subtle analysis of a war that went bad…told just about as well as it can be told."
Lt. Gen. James Edmundson (USAF, Ret.)

"SON OF THUNDER--Sierra Hotel."
Maj. Gen. Ken Miles, (USAF, Ret.)

"I recently purchased SON OF THUNDER from Amazon.com and was most thoroughly pleased with the book. I must in all honesty praise your writing skills and how vividly you have described events. Your book is thoroughly readable and I found myself unable to put it down until I had perused it. Congratulations!
Maj. Gen. Muhammad Rahimullah (Afghan Air Force, Ret.)

"Reading his emotional and exhilarating account was like living it again."
Brig. Gen. Tom Wittman, (NM ANG, Ret.)

"I felt like I should have been wearing a G-suit…. Thanks for writing SON OF THUNDER."
Brig. Gen. Lon Walter (USAF, Ret.)

"SON OF THUNDER is one of the finest Vietnam-era fighter pilot stories I have ever read."
Lt. Col. Steve Miller (USAF, Ret.)

"Read SON OF THUNDER and understand what it was really like."
Lt. Col. Mark Berent (USAF, Ret.), Best-selling author

"You owe me a full night's sleep."
Col. "Hawk" Moll, (USAF, Ret.)

"It's the first book that ever made me sweat…and I've been there, done that."
Joe Vincent (former USAF fighter pilot)

"The guy with the Right stuff tells the Right kind of story. If only he'd been in the right service."
Carl Stattin (former Navy fighter pilot)

"I couldn't put the book down. Wonderful…."
Don Castleman (former fighter pilot)

"I'm personally aware of JD's abilities as a fighter pilot, but his skill as a writer is equally impressive."
Col. "Herk" Herculson (USAF, Ret.)

"…spellbinding!"
Col. Win Reither (USAF, Ret.)

"It is without doubt one of the best aviation based novels I have read (and I have read a few!).... It ranks as one of the aviation greats in my opinion. You have captured the exhilaration and horror of flying combat as well as encompassing the sheer beauty of flight that all pilots feel."
Lt. Cdr. Kevin Potts, (Royal Navy (UK) pilot, Desert Storm Veteran)

Son of Thunder is great. The story is right on the mark and the writing is superb. It's a must read for any and all Vietnam fighter jocks. If anyone wants to know what it was like to be an F-100 fighter jock in combat, this tells it like it was.... Get the book--read it!
Dick Rutan, Aviation Pioneer

Son of Thunder is the catharsis for the Vietnam fighter pilot, this era's sequel to Red Badge of Courage, War and Remembrance and Winds of War. JD Wetterling has captured the sentiment, interaction and parameters more exacting than if one were actually serving a tour and flying each mission. If you ever flew missions like the F-100 pilots and others did, you know that in order to function you had to suppress the human emotional content so deeply that it might never resurface again in one's lifetime—unless you experience Wetterling's vivid story, Son of Thunder. This is a Steven Spielberg, Ken Burns, Oliver Stone level undertaking; I wonder who will obtain the movie rights?
Stewart Gable (Col. USAF, Ret.)

I just finished your book- I couldn't put it down. I relived my F-100 flying days and reviewed several midnight movies last night. Wonderful book--you have a great future as a writer.
Don Castleman, Patriot, Fighter Pilot. Payson, AZ.

Once you start Son of Thunder, I guarantee you will not be able to put it down. It's an ambush, a gripping and suspenseful account of raw nerve, courage, survival, vulnerability and love—an historical, military thriller that is at the same time a classic love story.
Theresa Stefanidis, Literary Agent, The Stefanidis Agency